BINARY

WORLDS
VR Applications and Simulators
Binary­-Worlds® was founded by Alex Schmidt, Joachim Schnitzer and Christian Schnitzer in 2017, and is based in south­western Germany.
Its core competence is the development of virtual worlds and virtual reality applications, as well as applications in conjunction with simulators as they are found in theme parks or at amusement fairs.
Furthermore Binary-Worlds provide custom designed VR solutions for outstanding exhibition appearances and visual presentations of brands and companies.
Binary-Worlds builds the bridge between engineering, software development and content production.
ENTERTAINMENT
Visitors to VR simulators experience the true sense of motion in a completely different virtual world presented to them via VR goggles in three dimensions. Both new and already existing simulators can therefore be transformed into a completely new experience, turning them into something extraordinary.
The Binary­-Worlds products have all the necessary components to equip both existing and new attractions with a VR system.
INDUSTRY 4.0
Virtual Reality is already a standing part of the entertainment world and it's now finding its way into other industries. The visualisation of products and their presentation are greatly enhanced by the use of VR. The building trade already uses the previsualisation of buildings, architecture and complicated presentations are now standard.
EDUCATION
Equally VR can be used, and is a proven help in education and apprenticeships because VR can create a more memorable learning experience.
Imagine yourself in the middle of an experiment of a particle accelerator, or you have the possibility to inspect the inside of the human heart. Physical, chemical, biological but also historical events can be featured in an immersive VR presentation and remain an impressive and memorable experience.
VR eMOTION SEAT & VR MOTION SEAT

---
SHORT FACTS
The VR Motion Seat is available as pneumatic or electric operating version. It synchronises stereoscopic 360° videos with noticeable motions and G-forces and creates an even more immersive VR experience with the help of a standard FBX file.
The system is a modular concept. Colors and custom design wishes are changeable. One system operates one up to 500 double units (1000 persons) synchronously. Binary-Worlds VR Motion Seat is the ideal space-saving, high quality solution for moving VR presentations and VR movie theaters.
Weight Double-Seat: 120 kg
Power Supply Motion Seat: 24V DC
Air pressure consumption: ca. 56 Nm³/h
Power Supply eMotion Seat: Grounding Pole Type B, 230V
Power Consumption eMotion Seat: 750W
Measurements: 135 x 104,9 x 129,3cm
Recommended room volume per unit: ca. 2,6 m³
2 years guaranty, CE approved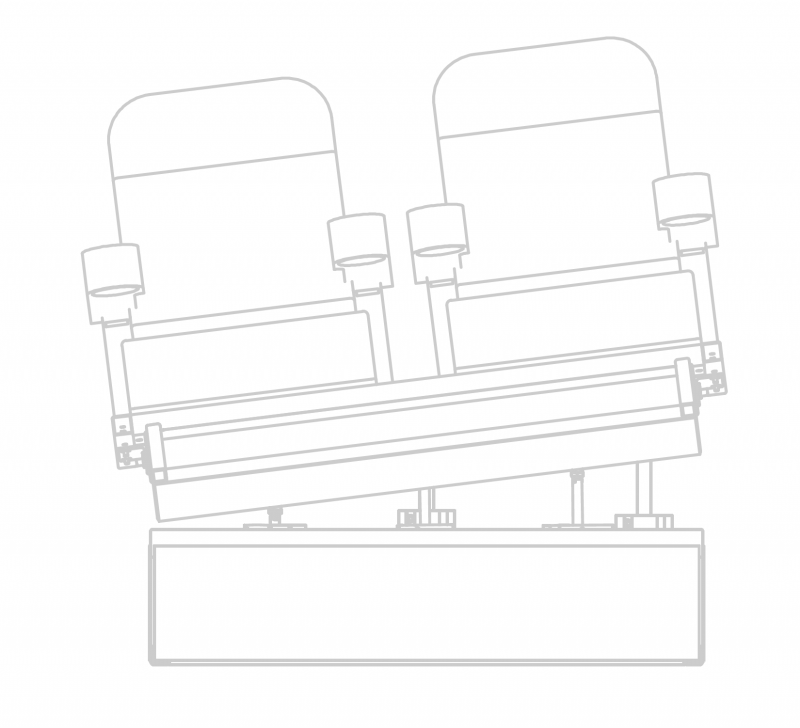 Binary-Worlds GmbH

Grünstraße 7, 79232 March Germany

+49 7665 9477240

mail@binary-worlds.com
Managing directors: Alex Schmidt, Christian Schnitzer, Joachim Schnitzer
Registered Amtsgericht Freiburg HRB 715460
Haftungsausschluss
Haftung für Inhalte
Die Inhalte unserer Seiten wurden mit größter Sorgfalt erstellt. Für die Richtigkeit, Vollständigkeit und Aktualität der Inhalte können wir jedoch keine Gewähr übernehmen.
Als Diensteanbieter sind wir gemäß § 7 Abs.1 TMG für eigene Inhalte auf diesen Seiten nach den allgemeinen Gesetzen verantwortlich. Nach §§ 8 bis 10 TMG sind wir als Diensteanbieter jedoch nicht verpflichtet, übermittelte oder gespeicherte fremde Informationen zu überwachen oder nach Umständen zu forschen, die auf eine rechtswidrige Tätigkeit hinweisen. Verpflichtungen zur Entfernung oder Sperrung der Nutzung von Informationen nach den allgemeinen Gesetzen bleiben hiervon unberührt.
Eine diesbezügliche Haftung ist jedoch erst ab dem Zeitpunkt der Kenntnis einer konkreten Rechtsverletzung möglich. Bei Bekanntwerden von entsprechenden Rechtsverletzungen werden wir diese Inhalte umgehend entfernen.
Haftung für Links
Unser Angebot enthält Links zu externen Webseiten Dritter, auf deren Inhalte wir keinen Einfluss haben. Deshalb können wir für diese fremden Inhalte auch keine Gewähr übernehmen. Für die Inhalte der verlinkten Seiten ist stets der jeweilige Anbieter oder Betreiber der Seiten verantwortlich. Die verlinkten Seiten wurden zum Zeitpunkt der Verlinkung auf mögliche Rechtsverstöße überprüft. Rechtswidrige Inhalte waren zum Zeitpunkt der Verlinkung nicht erkennbar. Eine permanente inhaltliche Kontrolle der verlinkten Seiten ist jedoch ohne konkrete Anhaltspunkte einer Rechtsverletzung nicht zumutbar. Bei Bekanntwerden von Rechtsverletzungen werden wir derartige Links umgehend entfernen.
Urheberrecht
Die durch die Seitenbetreiber erstellten Inhalte und Werke auf diesen Seiten unterliegen dem deutschen Urheberrecht. Die Vervielfältigung, Bearbeitung, Verbreitung und jede Art der Verwertung außerhalb der Grenzen des Urheberrechtes bedürfen der schriftlichen Zustimmung des jeweiligen Autors bzw. Erstellers. Downloads und Kopien dieser Seite sind nur für den privaten, nicht kommerziellen Gebrauch gestattet. Soweit die Inhalte auf dieser Seite nicht vom Betreiber erstellt wurden, werden die Urheberrechte Dritter beachtet. Insbesondere werden Inhalte Dritter als solche gekennzeichnet. Sollten Sie trotzdem auf eine Urheberrechtsverletzung aufmerksam werden, bitten wir um einen entsprechenden Hinweis. Bei Bekanntwerden von Rechtsverletzungen werden wir derartige Inhalte umgehend entfernen.
Quelle: Disclaimer von eRecht24, dem Portal zum Internetrecht